FA NY
Type: Retail
Size: 860 sqft
Location : East Village, New York City
Year: 2021
Status: Completed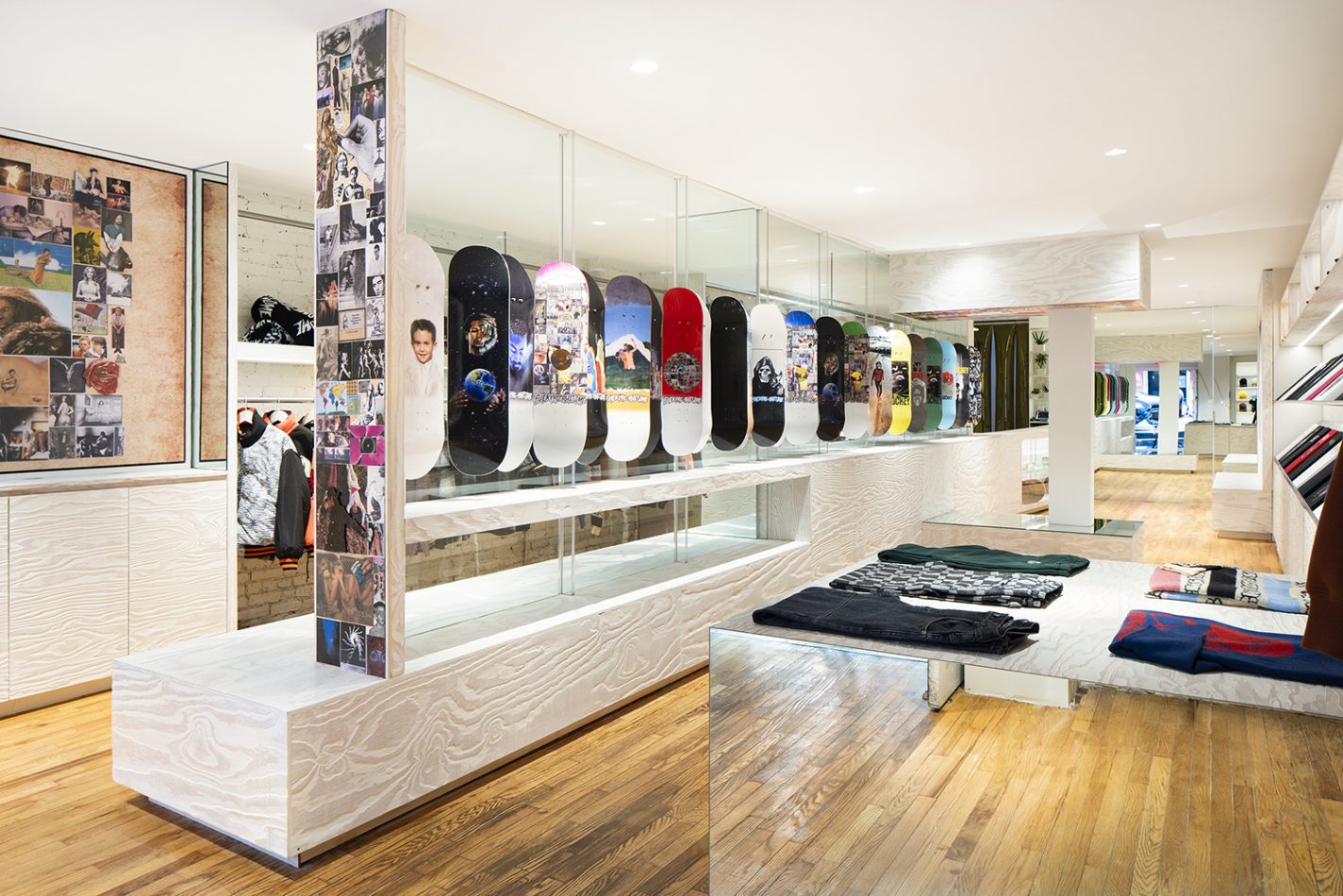 Designed by JMDS, Fucking Awesome's first NYC store, is a bold monochromatic vision with a unique central spine, and pops of colorful artwork by the brand's founder, Jason Dill.
Located on E 9th St in the East Village, the project's location was selected for its proximity to renowned skate spot, Tompkins Square Park, with a focus on fostering community within the local scene.
Taking cues from FA's collage based aesthetic, JMDS approached the project as a three dimensional collage. Creating spaces that shift and rearrange themselves within mirrored surfaces as you move through the store.
The single existing structural column has been cloaked in an exaggerated soffit with artwork adhered to the underside, and a mirror clad plinth that reflects the artwork back into the space.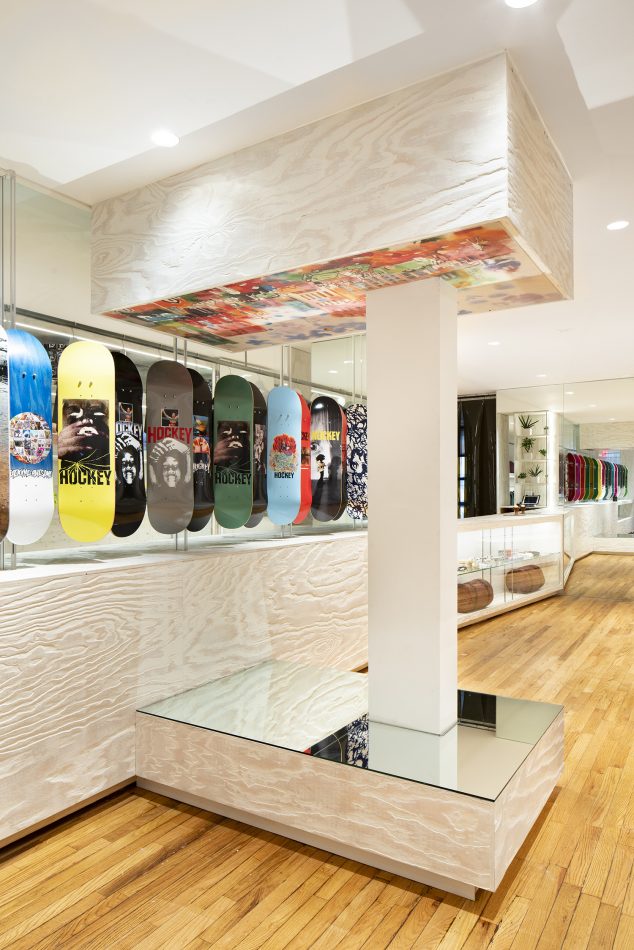 All millwork displays a custom sandblasted finish; revealing a deeply dynamic, white washed wood texture, creating the perfect backdrop for the bright, saturated FA / Hockey product.
At the heart of the design is the "central spine": consisting of a custom board wall and an angled POS display.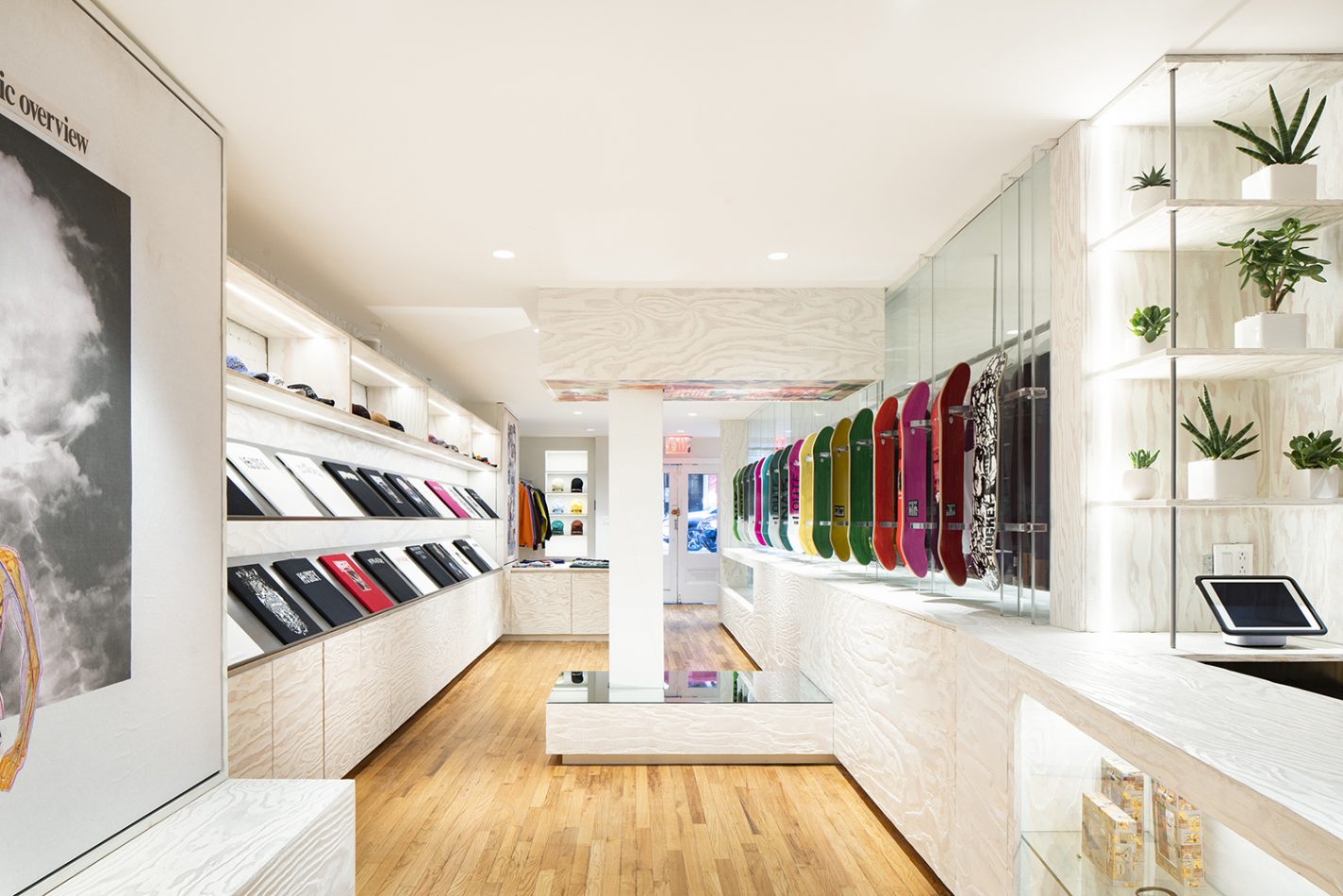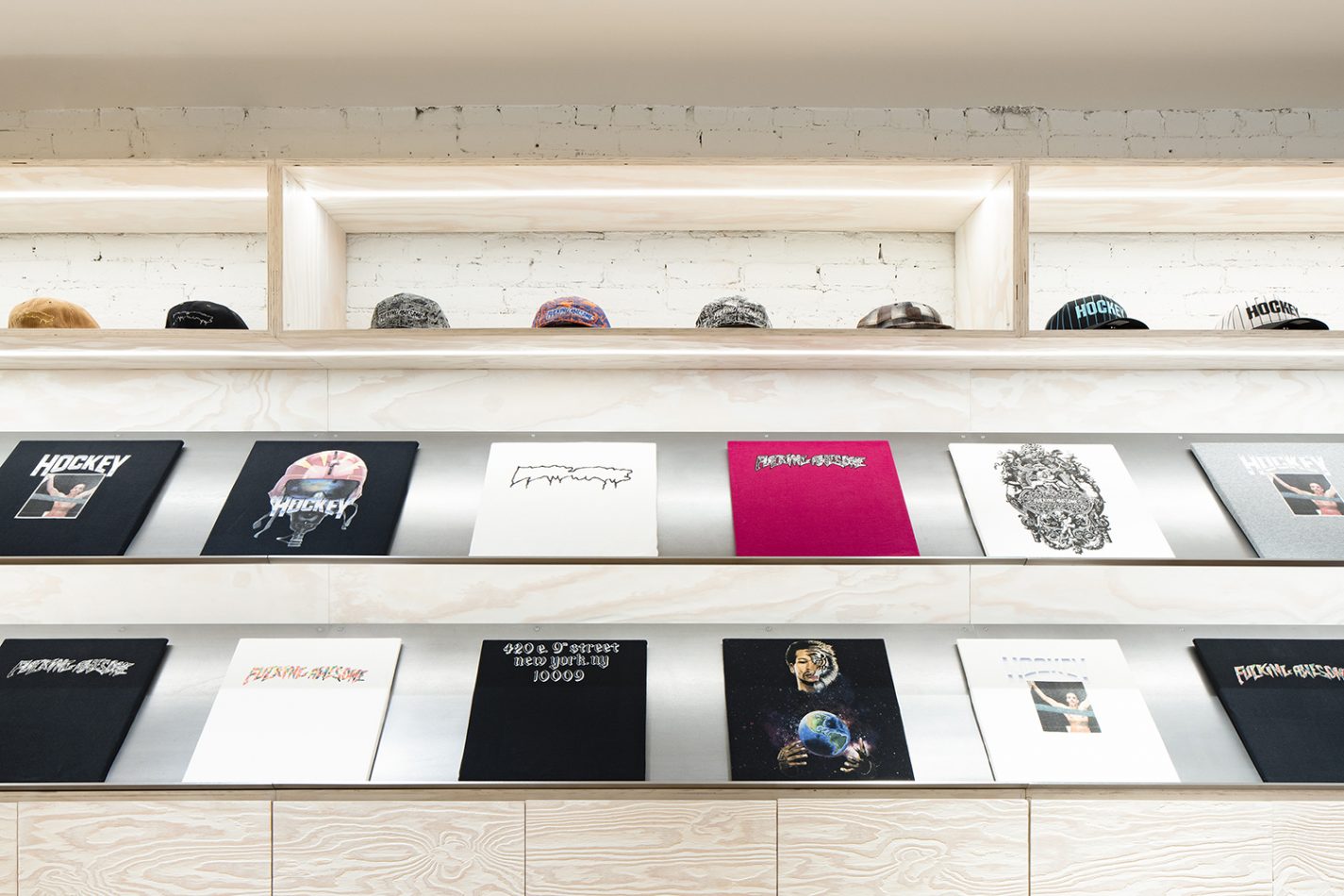 The board wall, seemingly floating in space, is a one of a kind piece, designed by JMDS to feature the FA & Hockey brand decks.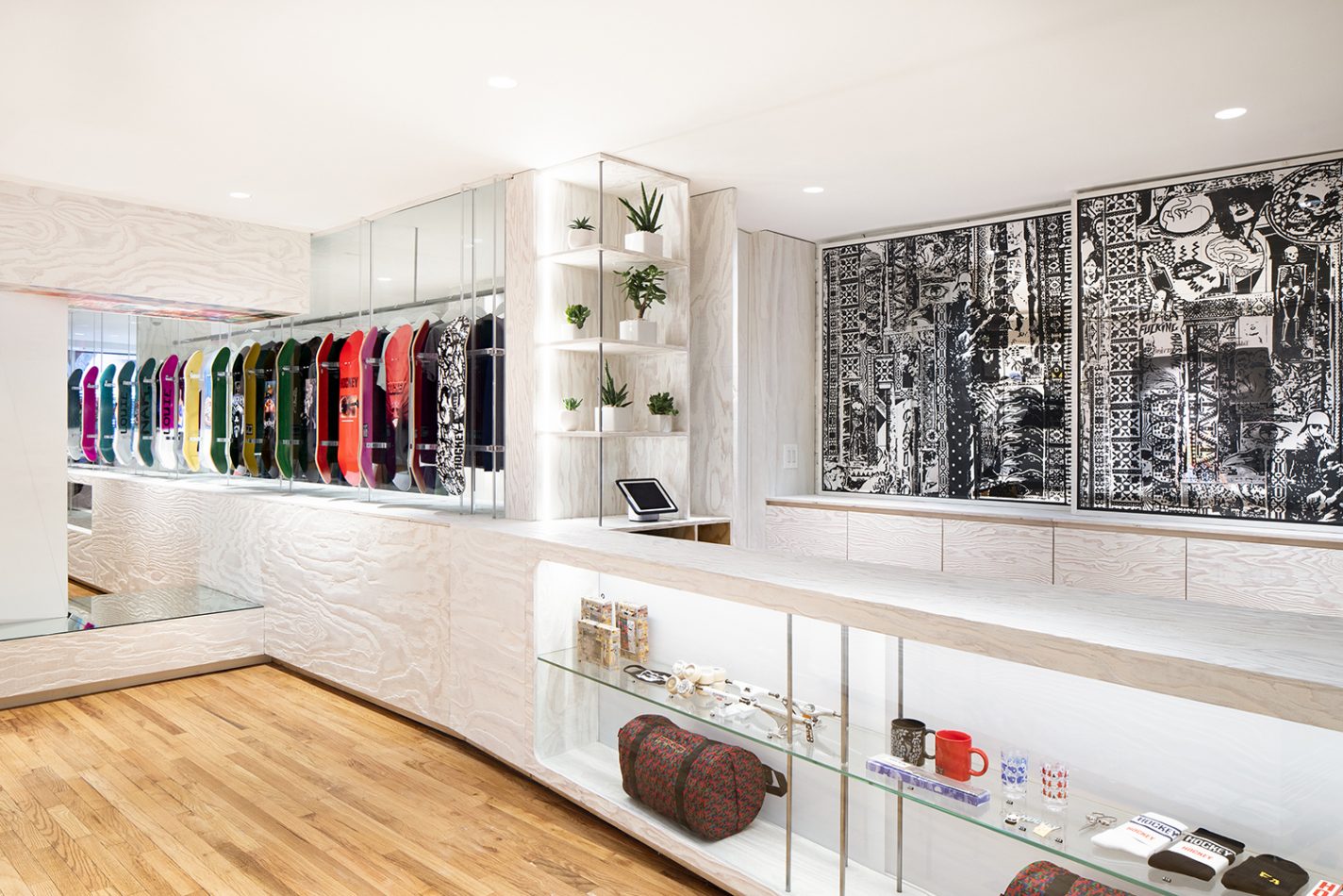 Here, we see how the central spine splits the space in two.
Mirrored surfaces conflate multiple views from within the space, into seemingly flat planes.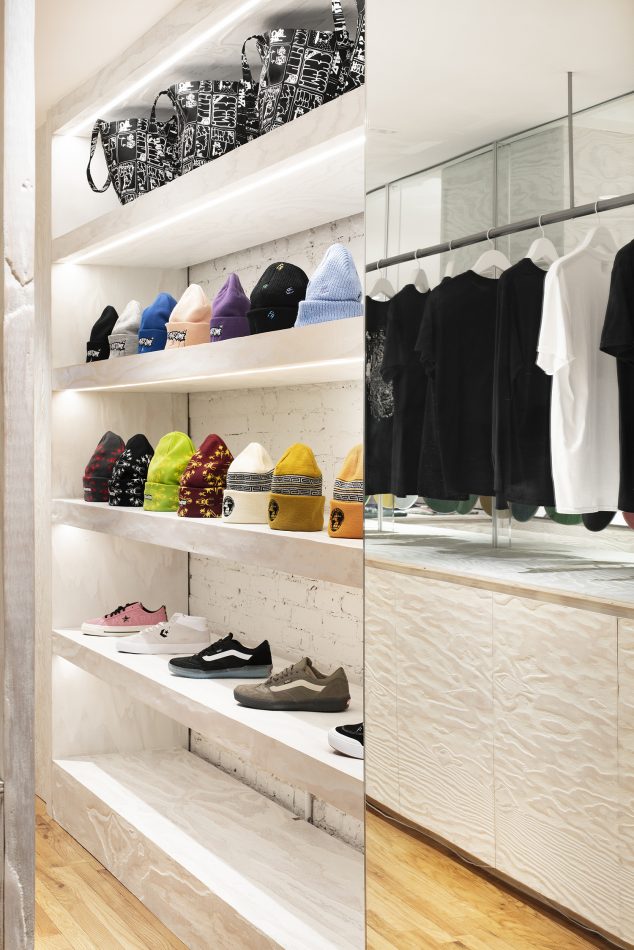 "It was important to use simple materials like AC Plywood, often affiliated with skate store interiors, but simultaneously elevate the typical understanding of the material and minimize its presence" said Maisie.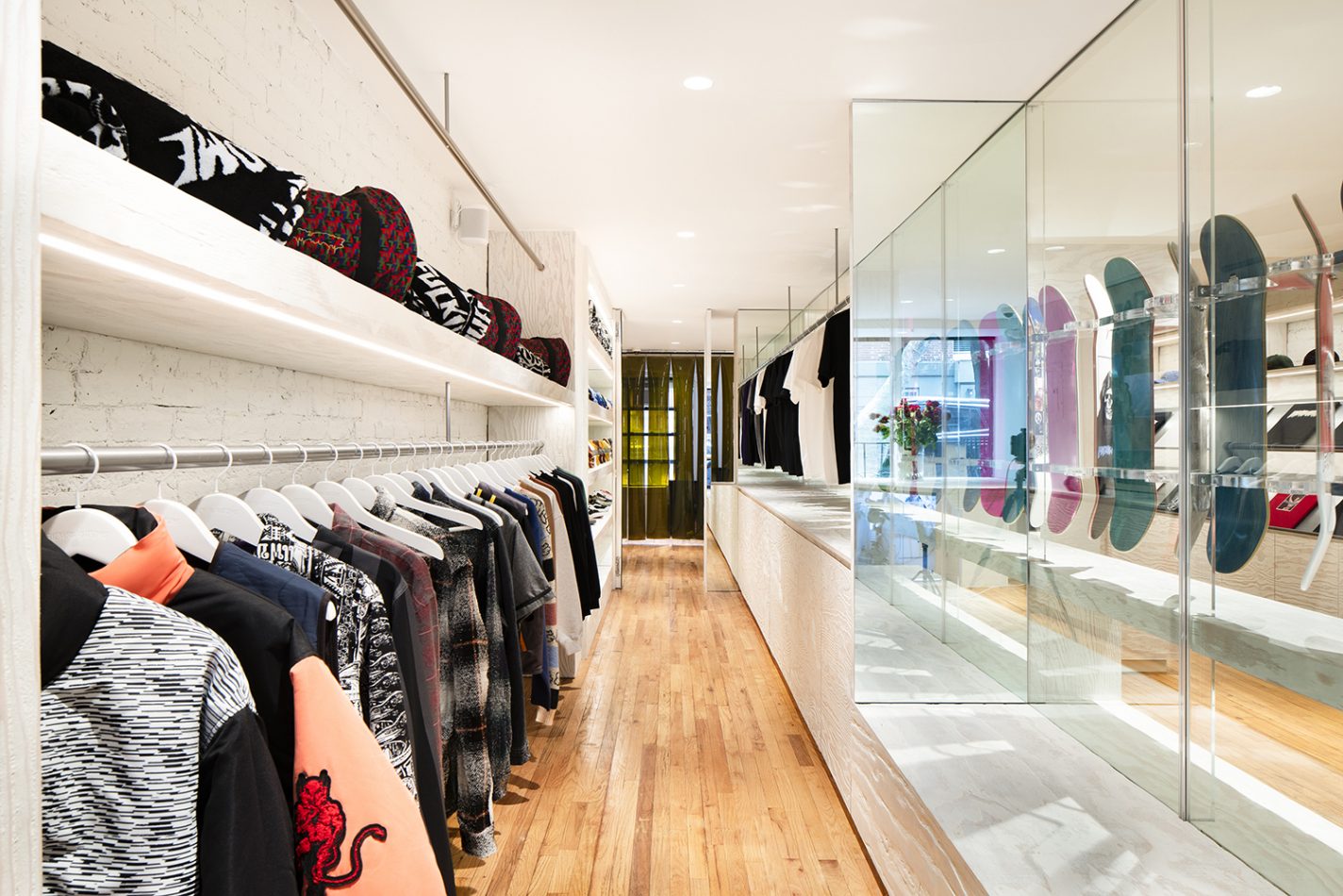 Boards are displayed both in parallel and at a 35 degree rotation, in an alternating pattern; creating an optical effect that reads entirely differently as you move from one side of the space to the other.
The custom acrylic structure is inlayed into a ½" tempered glass wall with 1" polished acrylic mullions.
An integrated 72" monitor is embedded into the sandblasted casework below the storefront window and showcases new and archival FA skate footage.
"With FA, it's all about the boards" said Maisie.
Team
Architecture : JMDS
Lighting Design : JMDS
Millwork / Lead Fabricator: Brooklyn Fabrication
General Contractor: Rehab & Design